L. Spenser Smith Releases New Album "Hooked" – Available Now
Posted on April 23, 2020 by Khalif M. Townes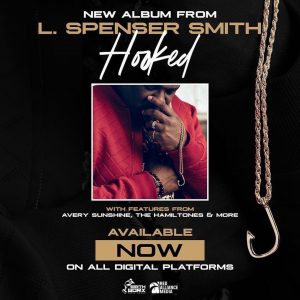 Red Alliance Media (RAM) is excited to announce the new album release from singer, songwriter, and producer extraordinaire, L. Spenser, entitled Hooked, now available on all digital streaming platforms.  This is Spenser's first album with RAM and both are excited to present it to the world. The leading single, "The Cross Alone", is already climbing Billboard charts and expected to make a major impact in the music industry. Also included on the album is a collaboration with The Hamiltones on the song "For Me" as well as R&B songstress Avery Sunshine on the title track "Hooked".
"This album is truly the 'L. Spenser' sound…" is how Spenser refers to this project. "I was intentional in making this album a living example of the undying and unfailing love God has for all creation…" He continues, "God's love is for all people, and what better way to showcase His love than through music?" When speaking of the album's anticipated reach, he says, 'It is my hope that this album reaches beyond the church walls in order bring people together to speak the universal language of love."  Spenser has garnered major attention from celebrities including R&B singer Daniel Caesar, to which he refers to Spenser as his "favorite singer". Spenser has also collaborated with or written for artists including Marvin Sapp, Men of Standard, Donald Lawrence, and more! One of his most notable music moments was his collaboration with Elbernita "Twinkie" Clark and Karen Clark Sheard of the legendary group, The Clark Sisters, when he wrote and sang with the legends on the album Twinkie Clark-Terrell Presents The Florida A&M University Gospel Choir. On this album he wrote three of the songs including his duet with Sheard entitled, "I Won't Complain".
Red Alliance Media label head, Steph Andry-Wilkinson, calls Spenser, "…gospel's Anthony Hamilton" when considering his vocal ability, soulfulness and relatable lyrics.  She continues in saying, "Spenser addresses music in a way completely different than any other songwriter, and his listeners can tell the difference."
...Read More.