Gregory D Inks Distribution Deal With IndieBlu
Posted on May 13, 2020 by Khalif M. Townes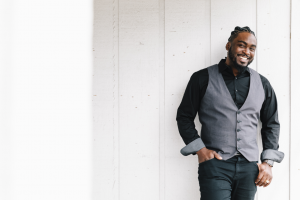 Founded by Billboard-charting gospel recording artist and savvy businessman Gregory D his Michigan-based gospel record label Gregory D Productions have inked an exclusive digital distribution deal with IndieBlu.
This celebrated songwriter, producer, and group leader of his award-nominated gospel recording group Gregory D and Company are slated to release new music within the coming weeks ahead of their forthcoming EP project. National Publicity and Marketing efforts are powered by HARDY PR (formerly The J. Hardy Agency).
"Worshiping God and giving Him my all, every time we minister is our goal, states Gregory D. "Were excited about our partnership with IndieBlu and what's to come!"
Darnell E. Nolin, Coordinator, Marketing and Promotions, Inspirational states, " Here at IndieBlu our mission is to partner with independent artists and to be a part of their puzzle of success. So, we are elated to be a fixture on the journey of Gregory D and Company as they pair artistry with the necessary tools for the world to hear their message".
About Gregory D and Company:
Gregory D and Company began their musical career in 2014 with the digital release of their debut single "He's Good" followed by "More Than A Conqueror" in 2016 and "I Am A Praiser" in 2017. That same year the group released their debut EP, The Worship Trio, and It's My Time in 2018, resulting in their first appearance on the Billboard charts peaking at #21 on Top Gospel Albums. Throughout their illustrious and budding career, the group has shared the stage with Billboard #1 recording artists Bryan Popin, Vanessa Bell Armstrong, Wess Morgan, BET's Sunday Best finalists Alexis Spight and Clifton Ross III. and nationally syndicated radio host Willie Moore, Jr.
About Indie Blu:
IndieBlu Music Digital Distribution serves as an extension of the Entertainment One Music Nashville brand in the independent artist space. Offering a menu of services for up and coming as well as established artists, IndieBlu is THE alternative to the traditional record label route. By listening to their partners, IndieBlu gives artists the opportunity to control their own destiny and can help artists and their teams navigate the current digital music landscape.
...Read More.