Marvin Sapp Album Chosen Vessel Available For Pre-Order This Friday
Posted on October 7, 2020 by Khalif M. Townes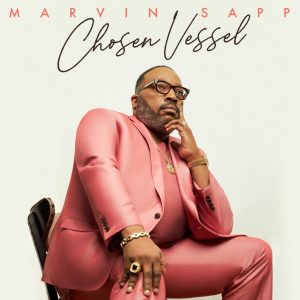 Gospel music icon Marvin Sapp launches his upcoming new album Chosen Vessel with an album pre-order available now via digital music providers.
Set for release on Friday October 9th, the album features the lead single "Thank You For It All" and the brand new song "Undefeated" – both available immediately with pre-order. Chosen Vessel marks the twelfth album from the celebrated Gospel singer, songwriter, and producer.
Marvin Sapp recorded his latest album live earlier this year at his new church, The Chosen Vessel Cathedral located in Fort Worth, TX. On the soaring "Undefeated," the 11-time GRAMMY® Award nominated, 24-time Stellar Award-winner proclaims God as the undefeated champion and savior of the world, covering us wherever we are; lifting us in hope and strength.
"Undefeated" follows on the elevating potent anthem "Thank You For It All," which hit #1 on Billboard'sGospel Digital Song Sales Chart. The track marks Sapp's 12th Hot Gospel Songs Top-10 – a run that, according to Billboard, started with the No. 6-reaching "Do You Know Him?" in 2006.
Check out Marvin Sapp's single "Thank You For It All" [Video]:
Marvin Sapp: Chosen Vessel is available for pre-order now.
As young people are known to say, there is 'new'…and then there is "New-New!" Pastor/Singer/Songwriter Marvin Sapp is basking gloriously in the latter with so many challenging changes, yet ultimately rich and rewarding experiences upon the release of his latest project Chosen Vessel. The poetic name represents not only the divinely autobiographical testimony of his new album's title track, Chosen Vessel is also the hallowed name of the 100-year-old church he was purposed with taking over in Fort Worth, Texas…far from the Grand Rapids, Michigan of his roots, and now-legendary history of triumph and tragedy. Chosen Vessel, in its totality, represents a level of new birth and new horizons for Sapp, who was initially reluctant to make the move but now stands tall in his response to the opportunity God placed in his path.
Once again working with his tried and true team of compatriots Aaron Lindsey and Myron Butler, Marvin Sapp has created a collection of both boundary stretching and steadfastly traditional songs with messages that are as timely as they are timeless. "Aaron, Myron and myself represent unstoppable musical synergy," Sapp states. "The consistent communication that we keep with each other enables us to bring music and ministry to life that will cause people to think or rethink their lives as they pertain to God. The running theme of Chosen Vessel is understanding that every person possesses value and worth, and that they're not victims but victorious in every aspect of their lives, because they have been chosen."
The music of Chosen Vessel ranges from the vibrant "Say Yeah" (soulful, old school quartet vocalizing melding into a Motown vibe that encourages, 'If the Lord has been good to you, SAY YEAH') and "Don't Be Afraid" (message: never fear to walk thru doors He has opened for you) to a medley of hymns proclaiming His greatness: the reverent, put-your-foot-on-the-rock praise of "Great I Am" and the rapturous, graceful waltz time praise "Great and Mighty"). And it cannot be overstated that with all that is going on in America and, indeed, the world right now, there is an overriding chin-lifting vibration that God's people are ready for a fresh start – most explicitly delineated in the song, "New Thing"- recorded before a live congregation in February 2020 just before the harsh realities of COVID-19. 
"'New Thing' actually spontaneously combusted in a moment when a revival was going on in our sanctuary," Marvin states! "I just started singing it… kind of the same way that 'Never Would Have Made It' and 'The Best in Me" happened. It talks about where all of us should be mentally right about now. When this album was being recorded, nobody was thinking about COVID. We didn't know people would be on lockdown for months. We recorded it three weeks before the shutdown! This song speaks to wanting to experience something fresh in God. We've been in this space for a while. God, we understand your sovereignty, grace and mercy. Now we are ready for something fresh and authentic."
Another highlight of Chosen Vessel is the edgy "Praise Everyday," some slow creepin' funk-rock goodness that comes on like a remix of Michael Jackson's "Bad" wedded to an old school break. "Aaron has his hand on the pulse of what's happening musically all across the nation," Marvin states. "This is a Gospel Praise and Worship Hip Hop Trap Music jam! It's designed to reveal just how a modern, funky in-your-face flow can suddenly shift to old school church and back yet still work together for the good…as long as your lyrical content is on-point." Especially strong is the single contender "Undefeated." "I believe that song will have a major impact," Marvin predicts. "God is the undefeated champion of all times. Because He is a champion and we were created in his image as King's kids and joint heirs, we can walk in that same authority." 
Marvin Sapp has been ministering to the people and serving The Lord as a leader since 2003 when he started Lighthouse Full Life Center in Grand Rapids, MI with his now departed wife, MaLinda. For decades he believed that this would be the church from which he'd retire…never anticipating that The Lord would challenge him to leave it behind to become Senior Pastor at Chosen Vessel Cathedral, the 100-year old first Black Apostolic church of Fort Worth, Texas. Marvin was personally asked to take over the church by Senior Pastor, Bishop Richard E. Young, a longtime mentor and friend who presided over the institution for 36 years,
"Never in my wildest imagination would I have thought that, at age 52, I'd be leaving everything I fought so hard for 16 years to build – my beauty/barber business…my real estate," Marvin marvels. "That God would order me to hand over my dreams to somebody who is going to inherit everything I worked built up without any of the struggle and strain? I thought: THAT AIN'T COOL! But God has a strange way of redirecting your steps. For God, it comes down to one simple question: 'Do you trust me?' I assured him that I did. I broke the news to my congregation, and 90 days later I was here in Texas. Honestly…the first six weeks were a struggle. Then one day I got out of the car, put my feet on the ground and finally felt the sense that I was home. I also realized that Lighthouse could not effectively heal the way it needed to with me there as a constant reminder of 'what once was.' Now they are able to forge ahead and be successful, too."
The post Marvin Sapp Album Chosen Vessel Available For Pre-Order This Friday first appeared on uGospel.com.
...Read More.