Christopher Ervin and Abraham's Descendants Project A Better Point Of View
Posted on April 7, 2020 by Khalif M. Townes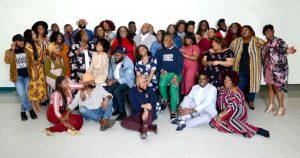 In times past when there were seasons of distress, God would often raise up someone to deliver a word of encouragement to his people.  Christopher Ervin and Abraham's Descendants are duly deputized to carry the message of hope  encapsulated in their new single, Things Are Looking Better.
With a love for God and Gospel music, Christopher Ervin called together gifted singers and musicians with similar interests and organized a choral aggregation which was christened Abraham's Descendants Ministries .  Today, the choir (affectionately known as AD) boasts of a roster of  singers from North Carolina, South Carolina, Virginia, and Maryland.   In just a few, short years, AD has amassed a huge following.  Well known for precision in their delivery as well as their unmistakably inimitable sound and artistry, AD made their national debut during Bishop Hezekiah Wallker's Choirfest in 2013.  They were featured on John P. Kee's VIP New Artist Showcase CD in 2016.  That event would serve as the precursor to their first live recording The Process, which made its debut in 2018.  The album was a choir favorite, finding its way into the top 20 on Billboard's Top Gospel Albums charts.
The infectious new track  encourages people toboldly walk by faith, and to trust God even in the midst of the hard trial.  Its equally important that victors see themselves and their situations from a different perspective.  Things are Looking Better is the lead single from their new EP distributed by Enon Music Group/Sony/The Orchard and will be available on all digital outlets and streaming platforms on April 10.
...Read More.