Billboard #1 Artists Bryan Popin And Tasha Releases "Beautiful Savior" Music Video
Posted on May 6, 2020 by Khalif M. Townes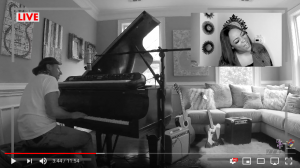 Billboard #1 recording artist and multiple Stellar Award-nominee Bryan Popin offers a live home worship quarantine experience with the music video release of his latest single "Beautiful Savior" featuring BET Sunday Best Winner and multiple Stellar Award winner TASHA. Popin composed the track and collaborated with super-producer AyRon Lewis (Kirk Franklin, Bishop Paul Morton Jr.) on production.
Watch the "Beautiful Savior" music vide:
Shot in HD and filmed at the Popin's residence in Nashville, TN, "Beautiful Savior" is an audacious cut with a sound that goes beyond the genre and musical expectations one might not usually associate with Tasha's vocal stylings.
"After hearing, Tasha minister arena-sized fervor at a small church event we were both a part of," states Popin. " I knew at that moment that I had to have her on this song. She was all heart and that's just what this song needed."
...Read More.