G.I. Breaks Top 20 on Gospel Billboard Radio Charts Landing at #18 with New Hit Single "So Good Live" & Reveals Upcoming Album Cover
Posted on August 5, 2020 by Khalif M. Townes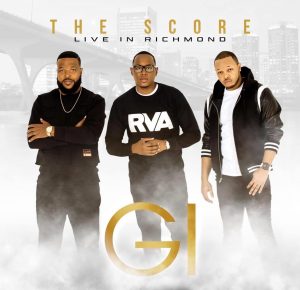 Dove and Stellar Award Nominated Group G.I. has much to celebrate in this season. On Sunday August 2, 2020 G.I. revealed the album cover for their forthcoming new album: "The Score|Live in Richmond."This is G.I.'s 7thAlbum of their recording career. However, it is their first live recorded album. Group member Branden Anderson says "This album is very special in that it captures G.I. in our live element.
We've never released an album capturing our live concert band arrangements, audience interaction, and the overall live experience. It was truly an amazing night and we are excited to share that experience with the world." Meanwhile, G.I.'s radio single "So Good Live" has shot up the Billboard Charts breaking Top 20 and landing at #18 this week. And while Covid 19 has affected millions across the world, group member Lamonte Harris has overcome Covid 19 by the healing power of our mighty God. God is So Good! Stay tuned for an official release date for "The Score|Live in Richmond." In the meantime, click below to get your praise on to G.I.'s Billboard Hit "So Good Live!"
Stream & Download "So Good Live Today!"
...Read More.