Kirk Franklin Christmas limited vinyl edition-pre order now available!
Posted on August 4, 2020 by Khalif M. Townes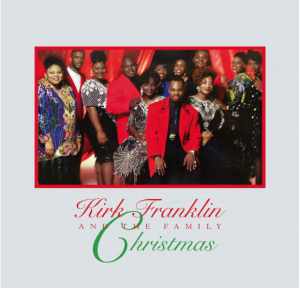 Get ready for a holiday classic as RCA Inspiration releases a special edition of Christmas, the beloved album from Kirk Franklin and the Family, available for pre-order now. The sole holiday album from Kirk Franklin, released in 1995 marking his second album, Christmas is being issued in a limited vinyl edition on Friday, October 2nd 2020, celebrating the record's 25th anniversary. Available in limited quantities, the vinyl edition can be pre-ordered online via Walmart, Amazon and Barnes & Noble.
The acclaimed album is fueled with Kirk Franklin's incomparable talents for fusing the sounds of Gospel, R&B, Jazz and Hip-Hop elements that have become a hallmark of his prolific career, making him into the 16-time GRAMMY® winning iconic artist/producer/songwriter he is today. Featuring ten tracks, Christmas includes his recordings of timeless songs as well as original favorites that have made this a classic album for the holiday season, including "Silent Night," "Go Tell It On the Mountain," "Come All Ye Faithful," "Now Behold the Lamb" featuring Tamela Mann, "Jesus Is The Reason For The Season," and more.
Christmas Track List:
Silent Night
Now Behold The Lamb
Jesus Is The Reason For The Season
Go Tell It On The Mountain
They Need to Know
There's No Christmas Without You
Come All Ye Faithful
The Night That Christ Was Born
Thank You For Your Child
Love Song
...Read More.